ART INSTALLATIONS
Museums  •  Public Art  •   Galleries
Immersive art environments that tell a story…
What people are saying:
"The transformation of the Sonoma Arts Council gallery was indeed significant!
I have a Masters in Exhibition Design, so most of the time I get side tracked with badly installed shows, even though the work might be good. I applaud you for a nice installation and a keen eye for design."
(Patricia Watts former exhibition director Sonoma Museum/ current director of Eco Artspace)
"Great show! lovely combo of elements. Stimulating & soothing. New, yet references other periods – nice juxtapositions." Kathryn and Mark Parry
"Fantastic show! The colors, textures, lines – I want to move in and live here." Robin Factor
"Beautiful work, you both have created a real experience! Ben Grace
"Best use of this space yet, really beautiful!" Leslie Zumwalt
"Spectacular, alive with color & shapes – Thank you." Kate
"Exquisite, calming – inspires curiosity" Maria Freebairn-smith
"Beyond extraordinary!" Natalie Clarkson
Content driven, thought provoking art installations that immerse the viewer in a transformative experience.
"The installation that you created in the gallery was exquisite. The intricate mix of colors, textures, and mediums in the sculpture and paintings added extra dimension to the richness and interest of the exhibit.  I enjoyed observing visitors interact with the vibrancy of your installation."
– Linda Galleta, Executive director, Sebastopol Center For The Arts
"I just want to take a moment to express how much I enjoyed the recent installation Interior/Exterior at the Arts Council gallery. It was by far the most ambitious installation we have ever had and it really helped draw interest and (attendance) to our venue. The abstract art and murals were breathtaking and the sculpture and assemblage was stunning!"
– John A. MacElwee, Executive director, The Arts Council of Sonoma County.
Immersive Environments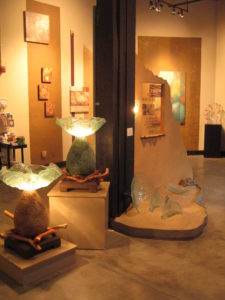 We call our immersive exhibits "temples of transformation" because of the affect that they typically have on the viewer. In order to experience art fully one must be enveloped by an installation. This produces a very different result from traditional/frontal art viewing; it promotes internal transformation through seeing in a different way. It's all about the experience.
Concept Design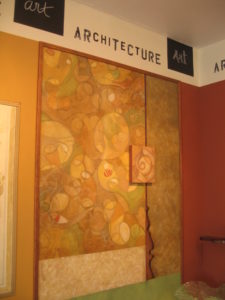 Though aesthetics are their own reward, we also believe in content. Concept design is the first phase of telling a story through an immersive environment. Authenticity means that each part of the installation adheres to this original concept; it is the hub of the story's wheel and all the sub plots must relate and conform to it. Concept design is the blueprint of the exhibition as a whole.
Philosophy of Art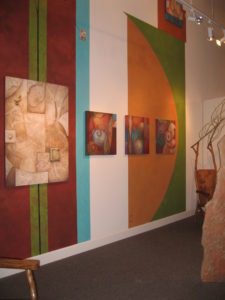 Our philosophy centers around the viewer. Like any good performers, we don't present to get something from our audiences, we do it to give something to them. The take-away experience is what our work is all about. It is our mission to provide quality of experience and rich content that both inspires and grows new gardens of perception.