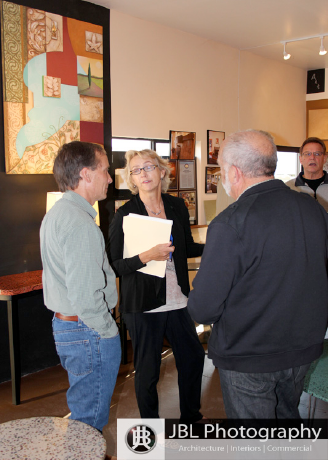 Team work equals success in today's design market. Gone are the days of the lone entrepreneur waiting for the phone to ring. Utilizing unique creative resources and incorporating multiple design solutions, by working with a variety of art and design professionals, produces a much larger pool of concepts, clients, and client success stories!
Diversity pays in more than just dollars. A well-rounded team allows all of its players to grow and learn from each other while producing fresh and inspiring design solutions.
Bohemian Stoneworks and MC2 The Science Of Design, are both companies that bring together teams of professionals for projects that integrate art and architecture with progressive design concepts. Solution oriented teams of like minded and creatively skilled  artisans make visions real by allowing collective expertise to coalesce into something greater than its parts. This synthesis of materials (such as cast glass and concrete, ceramics, wood, and papier-mâché) and new design ideas, presents a golden opportunity for diverse makers of all genres to create progressive and highly original design combinations together.
In the design world, the micro manufactured or one-of-a-kind item has superseded mass-produced designer options in popularity. Not only does the current consumer prize natural, non-toxic processes and products; they also look for unusual beauty and style, eclectic and ethnic diversity, ergonomic excellence, and custom color choices.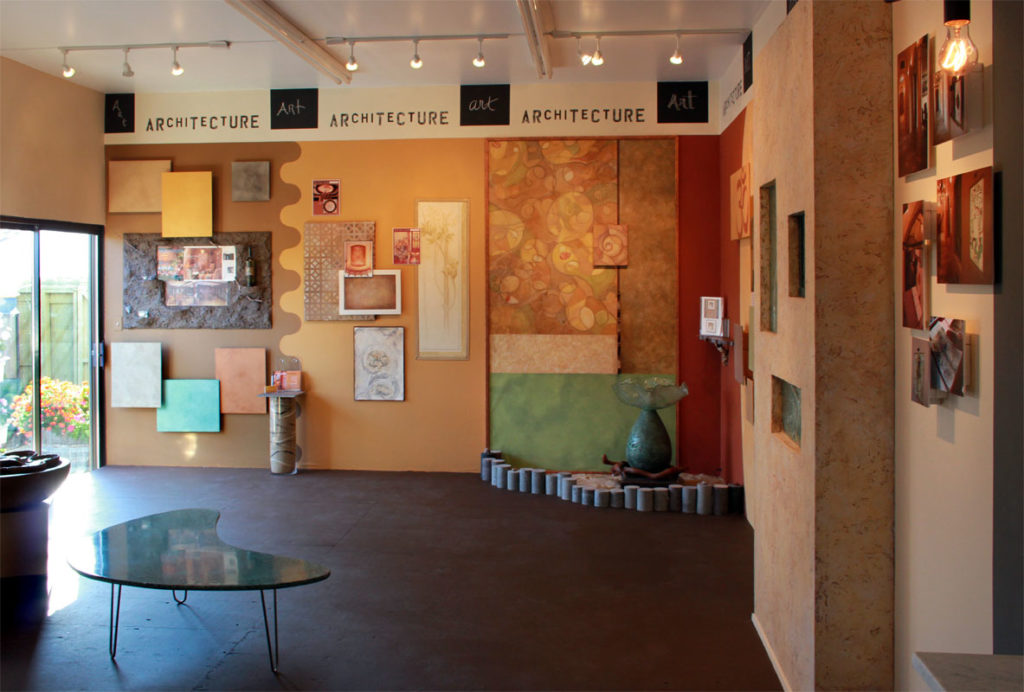 Integrated design solutions are called for to resolve the challenges associated with this paradigm shift. The newest spatial design concepts amalgamate unusual, diverse, and re-purposed or green materials into interior design, architecture, public art, eco art installations, and the creation of total environments. The goal is to develop functional spaces that evoke positive emotional responses; that are clean and healthful; and that produce connection to any environment in a non-ordinary way.
In addition, strategic color placement, pattern coordination, and the sculptural elements must merge to combine sensual fulfillment with efficiency (usability). These are the practical and aesthetic ingredients that bond and organize a space into a cohesive whole. Because one individual (or company) rarely has all the answers, talents, or techniques to fulfill this ideal; partnering with others and integrating effective solutions helps broaden the field of available options considerably. Co-creation keeps design fresh and design professionals fully engaged.
Also, by reaching out to new design/build professionals through exhibitions, lectures, and technical demonstrations, progressive companies promote thought leadership along with an inspirational range of resources that are now available to and through fellow designers.
Bringing the power of the design community together furthers everyone's goals, increases productivity, and promotes sales.
Today's consumers are looking for a very personal type of visual branding that creates comfortable and usable familiarity along with aesthetic inspiration; especially in their homes or work spaces.
People want to feel a part of their environment and to be included in its raison d'etre. Art and design that is diverse yet harmonic, and that successfully integrates ambiance with purpose, fulfills that need; especially when it is truly relevant to the over-all function of the space.
When we embrace team work and diversity in our design processes we create greater potential to serve people in these important ways. Staying open and receptive to the ideas and innovations of other designers and makers; working with teams of professionals; and sharing our ideas and expertise with others, allows us to move ever forward with grace and flexibility.
Special Design Resources:
Caste concrete: Patrick Miller / bohemianstoneworks.com
Italian plasters and specialty finishes: Stephen Klum / stephenklum.com
Custom light fixtures: Jennifer Austin / rjaustindesign.com
Clay finishes and green applications: Michael Zieve / zievestudios.com
Fine art murals, Graphics and decorative elements: Martha Wade / marthawadedesign.com
Curatorial services/art advisor: Satri Pencak / satripencak.com
Caste glass, Sculpture, Lit elements, Water features: Craig Mitchell / mctwodesign.com
Custom wall coverings, art installations, murals: Martha Channer / mctwodesign.com
Article by: Martha Channer, MC2 The Science of Design