Color is the key to successful interior design…

The art of color planning – choosing a palette that inspires and informs the over-all design plan – is the most important fundamental design choice for your project.

We collaborate with you to choose the colors and textures you love.
"I've been meaning to write all week – the color is beyond perfect. You are amazing! As usual, you nailed it and I am impressed with your abilities. Not only do I love the color, I love the name…Hope to work with you again soon." 
– Lisa Capurro, Sotheby's International Realty
 
"Martha has been an incredible asset to me. With her artistic eye, color design capabilities, knowledge and expertise, she helped me transform the exterior of a 1970's apartment building into something modern and beautiful with nothing other than paint and color. I am so proud to recommend her to anyone needing color and design services."
– Ann Harris, Coldwell Banker Real Estate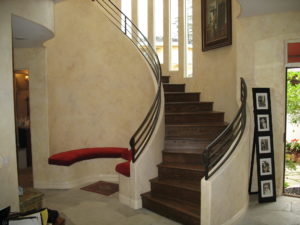 WALL COLORS AND FINISHES include multi-layered wash finishes, textural relief finishes, and applique. Wall finishes and other decorative applications give a sense of depth and glow to architectural features.
This Coronado, Ca. project required the spatial definition and warm energy that finishes bring to a modern space. The soft, multi-colored wash finish was balanced by solid colors in both the coved ceiling features and the display niches in the upstairs great room.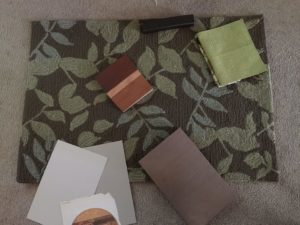 FURNITURE, FABRICS, FLOORING are all coordinated as part of the over-all color design of any project. Color work is not just matching colors – it's a complex process of complementing and balancing values and hues.
This durable area carpet along with samples of wall colors, furniture finishes, and fabrics for pillows and chairs, was turned into a contemporary lounge area complete with a custom designed (and hand finished) entertainment unit.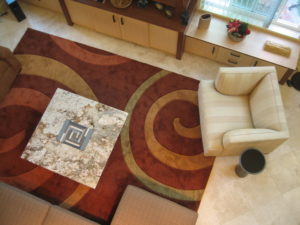 ACCESSORIES AND DETAILING completes the over-all color palette of any space like accessories complement clothing. Accent rugs, decorative elements, and side tables provide the color balancers that allow even bright colors to be used in moderation.
This casual living space was made lively with a custom carpet that sets off the neutral patterns in the chair, sofas, and coffee table. We hand-picked the stone for the table and fabricated the raised rectangular spiral in its center to echo the larger spirals in the carpet.
Interior Color and Detailing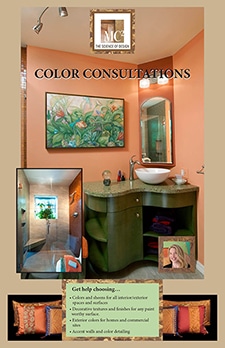 We make a hard choice easy! Choosing the right paint colors and/or coordinating design elements by color requires experience. Let us help you get it just right!
Get help with
paint and color!
Per hour color design.
Call (619) 865-7885
Exteriors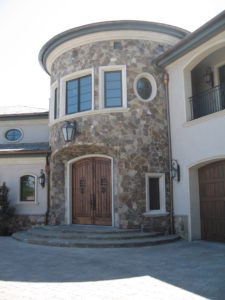 Because of color reflection and open daylight, exterior color design is very a different process than interior plans. Inspiring exterior
color results from working with the surrounding landscape and playing up architectural features. Don't waste time and money – call in an expert! We can be there fast and give you the help that you need.
Textures and Finishes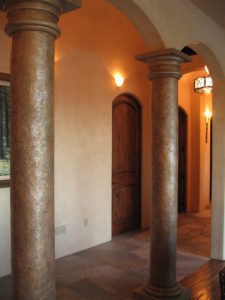 Sometimes solid colors are not enough. Both simple and complex color schemes benefit from textural accent walls and multi colored finishes. We have a full complement of samples to choose from.