EXHIBITION DESIGN
Museums • Corporations • Commercial Display
Transforming your display spaces into works of art…
Sophisticated exhibition design for your important art collections and promotional events

Create unforgettable ambiance that brands and promotes your exhibits with style, distinction, and originality.

"I just wanted to take a moment to express how much I enjoyed the exhibit! It was by far the most ambitious installation we have ever had, and it really helped draw interest and attendance to our venue.
The abstract art and murals were breathtaking and the "natural elements" sculpture and assemblage pieces were stunning!"
– John A. MacElwee, Executive Director, The Arts Council of Sonoma County.
 
"Channer and Mitchell contributed to all aspects of this exhibit; from postcard design to press releases, to acquiring the sponsor for an additional reception. They were hands-on and available for all publicity surrounding the event and paid close attention to detail in every aspect that they were involved in. Channer and Mitchell are a force to be reckoned with and bring a lot to the table."
– Catherine DePrima, Visual Arts Program Manager, The Arts Council of Sonoma County
 
"What a pleasure it was to work with MC2 on the Abstract Rhythms exhibition and the related performance event: I felt that I could really "run" from developing creative ideas to follow-through.
Thank you both for your many contributions to the exhibition's development, including assisting in the selection process, and the exhibition's design, layout, and installation."
– Satri Pencak, Curator/ Emeritus Director of Exhibitions, Sebastopol Center For The Arts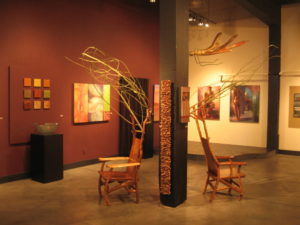 ART, ARTIFACT, PRODUCT DISPLAY can be a simple shelving design to a full-scale permanent installation. Affective display generates interest and produces sales!
This exhibition is a display of kiln fired glass products, encaustic wall art, sculptures in wood and bronze, resin cast art, functional art, and paintings on canvas. The concept of presence informed the art selections and described the feeling produced by these highly creative pieces, which also determined how they were shown.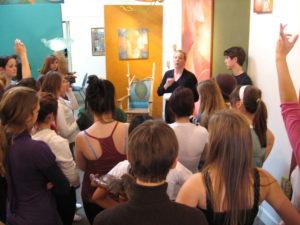 EDUCATIONAL DESIGN SOLUTIONS includes multi-media presentations, performance art, lecture/demonstrations, and exhibition tours that educate your audience. Also, educational play stations that are interactive platforms within an exhibit.
A full scale installation is a perfect vehicle for developing audience participation. Our Interior-Exterior: New perspectives on landscape show hosted classes, workshops, and private tours. As a way to interact with the exhibit, student artists and dance performers learned about combining choreography with installation art.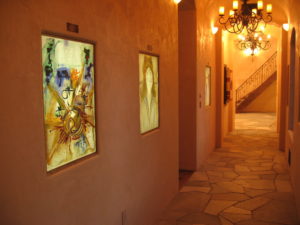 PERMANENT INSTALLATIONS can be designed for private collections, corporate collections, museums, and other public venues. We procure the art to be selected or work with your existing art collection.
The Del sol house is a display of Salvador Dali prints on sheep skin vellum that are lit from behind to best show their jewel -like colors and the authentic gems attached to each print. Along with this print collection, we bound an archival book of alchemical treatises (displayed on a louvered podium) that illuminates each image through its alchemical origins.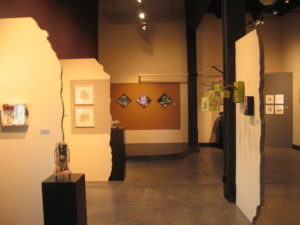 POP-UP GALLERIES serve several purposes ranging from product or concept launch (visual branding) to art collection displays. They can be especially useful when placed in lobbies, entrance halls, temporarily free spaces, or reception areas.
This pop-up gallery at The Barlow (a community shopping and gathering place in the North Bay of San Francisco) was a holiday "art store" showcasing small, affordable works of art. We located the art for the show and managed the sales. Along with our exhibition design, we worked with curator, Satri Pensak, who selected the final work to be shown and placed it in the gallery.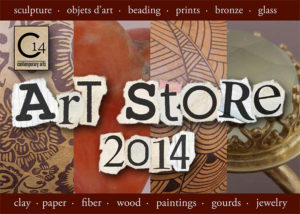 Art Procurement
Our exhibition services include finding appropriate art and/or selecting the best from your collections. We work with curators, artists, and artisans to create the exhibit  that best illuminates your mission.
Complex Installations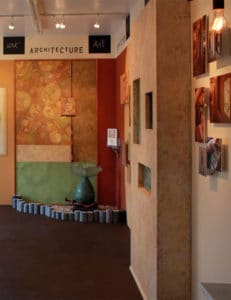 Pre-designed components provide the best way to a seamless installation. You are presented with a plan, a time table, and details that make everything clear and efficient. These installation phases, like a puzzle, come together into a well-ordered, connected and cohesive whole. We make the process simple and enjoyable.
Education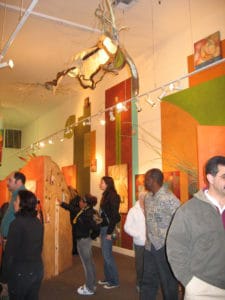 Along with being pleasurable, exhibits often have the function of being educational. Whatever your message, we work with you closely to make your meaning clear, engage your viewers, and make the learning fun.