RESIDENTIAL DESIGN
Interiors  •  Exteriors  •  Custom Design
Practical design solutions that inspire….
We offer affordable design services tailored to your home and lifestyle.
A full service spatial design company that specializes in custom design options specifically created for you!
"Thank you for helping me get my home redecorating project going.  Your advice and help with the selection of paint color and furniture really accelerated the progress and the results look great.  Your ability to handle parts of the construction made this easy for me.  I particularly appreciate your help and connections with other designers and contractors who completed other parts of the house overhaul such as the landscaping." 
– Kent O'Brien, Petaluma, Ca.
"This custom home, is filled with a clutter of mementos! You were able to size up the situation quickly, pairing colors with wood and stone; and creating finishes that went beautifully with the handmade tile. The Benjamin Moore colors that you chose for the living room and the accent wall enhance the building's interior as well as its exterior architecture. They imbue an emotional glow to the walls at night and a sense of fun during the day. The colors pull all the parts of the house together and make it feel like one lovely space. You are very professional, artistically talented, and often totally brilliant! THANKS!"
– Anne Peterson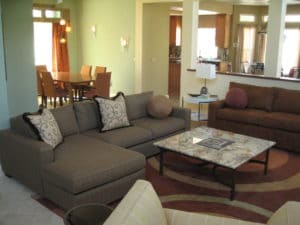 FURNITURE AND SPACE PLANNING center around scale, texture, and affective color design. The balance between the architectural style and the size of the furnishings is what creates a spacious, livable home.
For this Southern California residence, we designed a completely customized space. Hand-crafted dining and coffee tables complement the unique fabrics on the sofa and dining chairs. Specialty hand-made pillows were designed as accents along with a custom carpet, personalized wall color, and cast glass wall sconces.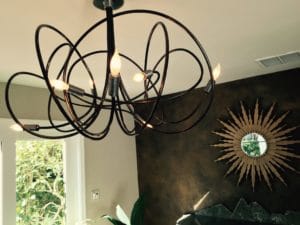 LIGHTING DESIGN and FIXTURES range from recessed can and LED lighting to crystal chandeliers. Both ambient and functional lighting benefits from an aesthetic, balanced approach. Lighting design is also about natural light sources from windows to fireplaces.
This dining room fixture is a unique creation by Timothy Ferrie, out of Los Angeles. Our Sebastopol, Ca. client was taken with the gestural air scribble technique! With seven bulbs, this fixture can provide a lot of light when needed or be dimmed down to a soft glow.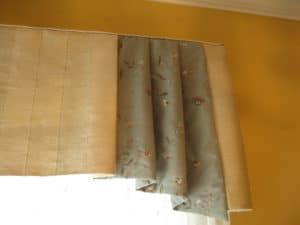 WINDOW TREATMENTS are anything from blinds to full drapery and sheers. Our creative approach accessorizes your windows with custom design that tailors the colors, fabrics, and style to your rooms perfectly!
Our drapery creations are handmade from high quality fabrics. This raw silk, embroidered dining room valance crowns hand-crafted sheers made of embossed Irish linen. Sheer ecstasy!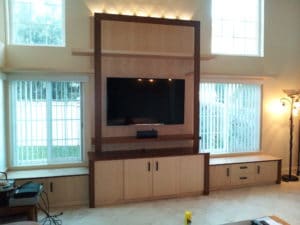 CUSTOM BUILT-INS and FURNITURE DESIGN tailors form and function to your lifestyle in a way that ready-made items frequently cannot.
Our San Diego client had a problem – too many windows on one large wall . Solution: customize a two story built-in that provides storage, an entertainment center, additional lighting, and shelving for art and artifact display. This beautiful maple built-in, stained in a two tone finish, not only neutralized the too many windows issue, it also effectively utilized a lot of wasted vertical and horizontal space!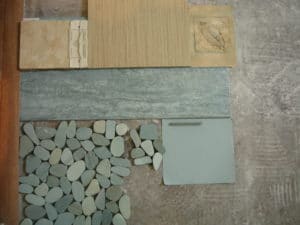 SURFACE AND COLOR SELECTIONS includes paint colors, flooring, tile, mosaic, granites, specialty finishes, and textural relief applications. We provide help with everything from selecting counter tops to surfaces for a fountain or fireplace.
This collection of samples became a lovely guest bath room in Kenwood Ca. The teal pebble floor and matching tile sections determined the accent wall color and decorative finishes for both the main walls and the striated tile for the bath. The decorative leaf pattern was hand applied to the cabinet doors and complements the silk-look roman shade and shower curtain.
Color Design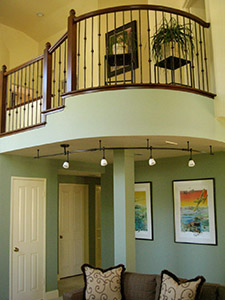 Every design plan begins with color. It is the foundation of every choice that comes after. Color planning starts with your personal preferences and develops into a full spectrum color palette. This makes selecting and coordinating fabric, furniture, paint, and accessories easy.
Space Planning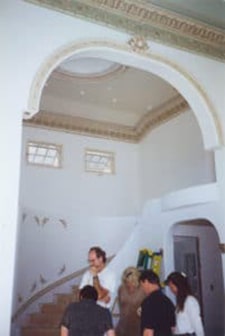 Spatial design is scale + floor plan + height = Composition. Add color and concept to this, along with factors and variables, and you have the foundation of all space planning. Scientific ratio combined with artistry: Art + Science = Design.
Design Resources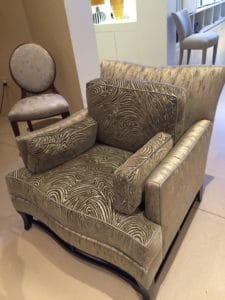 Resources for products, subs, and custom fabrication is our specialty. We have vetted resources from around the world that guarantee excellence, service, and unique design.